Restored Hastings Pier facing 'financial difficulties'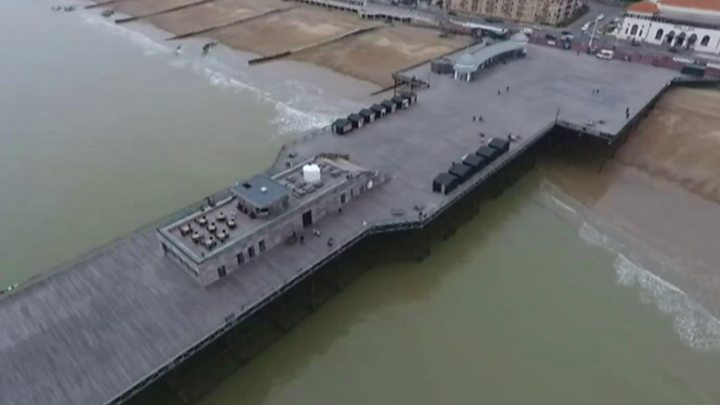 The charity that runs Hastings Pier has revealed it made insufficient money this summer to cover costs and will have to make some staff redundant.
In a letter to shareholders, chair of the trustees Maria Ludkin said: "As ever, we were up against the weather."
She said trustees had examined what was successful this year and were working on a new business plan with a restructuring expert.
Cuts would be in areas which will "be fundamentally altered in the future".
The 19th Century pier was almost destroyed by a devastating fire in 2010 but, following a two-year restoration project, it was officially reopened in 2016.
Earlier this year, it was voted Pier of the Year in a competition judged by the National Piers Society.
The 145-year-old structure is now owned by the Hastings Pier Charity and 3,000 shareholders who bought into the project at £100 a share.
However, poor weather forced it to close on three occasions in August and the first night of its Beano On The Sea festival in September was also cancelled.
"Sunny holiday weekends made a lot of money for the charity, however when we had to cancel events the opposite was the case," Ms Ludkin said.
She added that it would not be right to go to shareholders to raise extra funds or to borrow money and increase the pier's debts.
Jo Stewart, chief executive officer of the charity, said she was 100% sure that with the right business plan the pier would be safe in the future.
"We're putting a plaster on it before it gets more severe."
A spokesman for the Heritage Lottery Fund, which awarded an £11.4m grant towards the restoration project, said it was "concerned to hear about the financial difficulties" and was in close discussion with stakeholders.