Camber Sands beach 'quieter' a year on from deaths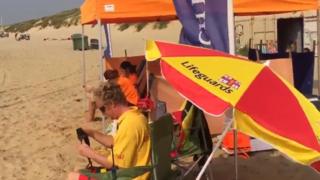 A Sussex beach that saw seven deaths last year - five on one day - has had a quieter summer, figures have shown.
Provisional figures from Rother District Council have shown "a significant reduction" in both incidents and visitors at Camber Sands. The council has suggested it follows "inconsistent weather".
This summer, RNLI lifeguards funded by Rother council patrolled the beach.
Camber did not have lifeguards before this year, but did have beach patrols.
An inquest this year heard claims lifeguards - had they been in place - could have saved lives last summer, but concluded the men may still have drowned.
Rother Council statistics showed its beach patrols reunited 176 missing children with families and dealt with 30 first aid incidents this summer, between Easter and September.
Its beach patrols dealt with 585 missing children and 300 first aid incidents last year.
The authority also said Camber had about 1.2m visitors in an average year, but added: "This year, when the weather has been very inconsistent, our early calculations indicate Camber has received around 850,000 visitors."
The RNLI said its lifeguards treated 46 minor injuries and medical conditions this summer, and four serious medical emergencies.
Lifeguards also tackled 20 incidents in the water, ranging from people getting into difficulty with inflatables to people getting out of their depth in the sea.
RNLI teams were also involved in 46 incidents involving missing or found children.
---
What happened at Camber Sands?
Seven people died in two incidents at Camber Sands in East Sussex in summer 2016.
The families of five men, who died in the second incident in August, described the victims as physically fit and competent swimmers.
An inquest into the deaths, which concluded in June 2017, heard the RNLI had recommended Rother District Council employ lifeguards after a risk assessment in 2013.
The inquest was also told the RNLI then was unable to fulfil a request to put lifeguards on Camber Sands 16 days before the August deaths, citing a lack of resources.
Lifeguards now patrol the beach. However, the inquest concluded the men may still have drowned even if there had been lifeguards.
---
A spokesman for Rother District Council said operations at Camber were extensively reviewed before the 2017 summer season including incident recording and risk assessment procedures.
He said signage was also reviewed and two new electronic signs were bought to display safety messages to visitors in various languages.
"The events of 2016 were unpredictable and unprecedented," he added. "We remain deeply aware of the impact of the drownings on the families of those who lost their lives.
"In a typical year, over a million visitors safely visit Camber Sands and serious incidents are extremely rare."
Guy Addington, RNLI community safety partner, said the charity had carried out safety work with communities near Camber and beyond, including inner city areas in London.
He said: "It's impossible to remove risk completely with a natural environment like the beach, so it's important that when people are visiting they understand a bit about some of those risks."