Birling Gap beach steps to be moved over cliff erosion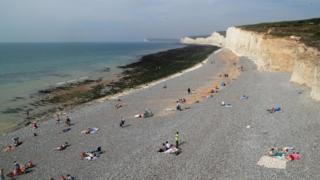 Steps giving access to a popular beach are going to be moved after "significant" erosion.
Wealden council said a new set of steps at Birling Gap in East Sussex would be installed with a "safer anchorage" as close to the cliff edge as possible.
Work will begin on 2 October, during which time people will not be able to go on to the beach.
Councillor Claire Dowling said: "It is important that we complete the work before the coming winter storms."
Ms Dowling said the steps and bridge were designed to be moved but action was having to be taken a number of years earlier than hoped.
She added: "It is another stark reminder of the relentless erosion taking place and why it is so important not to go near the cliff edge."
During the winter storms of 2013/14, seven years of erosion was said to have taken place in just three months.
Adrian Harrison, National Trust lead ranger, said the essential work would help to enable long-term access to the beach.
"There is no easy solution to coastal erosion," he added.
The council warned that walkers should not venture along the shoreline from Eastbourne or Cuckmere Haven, as with no access or exit point at Birling Gap, there is a risk of being cut off by incoming tides.
Depending on the weather, the work is expected to be completed by the end of November.