East Sussex council plans could see seven libraries close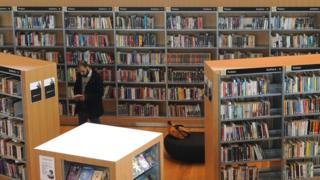 More than a quarter of libraries in East Sussex will close and its mobile library service will end, under new council proposals.
Details of the plans have been seen by BBC Sussex and will be discussed at a cabinet meeting next week.
Council spokesman Nick Skelton said "significant cuts from central government" left them with "no choice".
But the former children's laureate Chris Riddell has urged the authority to "think again".
He said: "Rather than fewer libraries we need better resourced libraries, we need to cherish the libraries we have.
"If we lost them, the great tragedy is, we can never get them back."
The changes would provide total savings of £653k, East Sussex County Council said.
With less money and reducing demand, it wants to shift the focus to areas such as improving literacy and digital skills.
Mr Skelton added: "It is vital we focus our resources where they will make the biggest difference."
'Appropriate locations'
Under the plans, the council would focus on improving child and adult literacy, supporting the economy, better health and wellbeing and increasing digital inclusion.
It would do this with an enhanced e-library service; outreach work taking it where it is most needed; and work with children's centres and community venues.
Seven out of the 24 libraries in East Sussex will close if the plans are approved following public consultation.
They would be at Langney, Mayfield, Ore, Pevensey Bay, Polegate, Ringmer and Willingdon.
A smaller network of 17 library buildings would remain open in "appropriate locations according to need".
The council said the closures would affect just 8% of users, 100% of whom live a 20-minute drive away from an alternative library.
It also plans to cut its mobile library service and instead provide support to those who are unable to travel through the Home Library Service.
A new community library card would also be available, allowing the borrowing of books in venues such as village halls or community centres.
The cabinet will be asked to approve a 12-week public consultation on the proposals on Tuesday, 19 September.