Horsham crash leaves one dead and two injured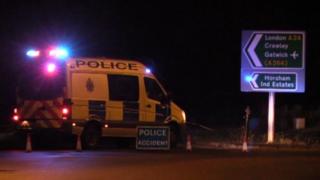 One person died and two others were injured when a car they were in crossed a roundabout and hit a dual carriageway central reservation.
The Lexus was on the A24 at the Robin Hood roundabout near Horsham just after 22:00 BST on Friday, when the crash happened.
An 85-year-old passenger was taken to hospital but died later.
Another passenger, 70, was also seriously injured. The driver, 69, had minor injuries, Sussex Police said.