Driver jailed after lorry crushed Kent man in Polegate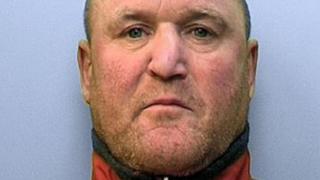 A lorry driver whose 41-tonne vehicle crushed and killed another motorist has been jailed for careless driving.
Steven Copping, 49, from Hildenborough in Kent, died instantly when the HGV overturned on the A27 between Polegate and Lewes in Sussex, in 2015.
David Hare, 55, from Ford, Wiltshire, was jailed for 18 months after he had previously admitted causing death by driving without due care and attention.
He was also given a four-year driving ban at Lewes Crown Court on Monday.
Sgt Dan Pitcher of the East Sussex Roads Policing Unit, said: "This case is a stark reminder of how vulnerable we are as road users. Sussex Police will relentlessly pursue those who break the law, which in this case had devastating consequences.
"In this case, Hare was travelling too fast, and while doing so he was distracted and lost control of his 41-tonne articulated lorry."
In a statement, Mr Copping's wife Karen said: "On that fateful day on 5 March 2015, Steve went happily off to work.
"We didn't for one second imagine that he would not be returning home to his loving family. Since that day we have suffered unimaginable pain through our loss.
"Steve was an amazing dad, and a loving and devoted husband. He was funny and friendly with a massive heart.
"I know that Mr Hare did not set out that morning to kill Steve but he did; through his actions we, as a family, are forever bereft.
"Nothing will bring Steve back home to us, but justice has taken its course and this gives us some solace."