Lord Lucan 'turns up' in West Sussex parish council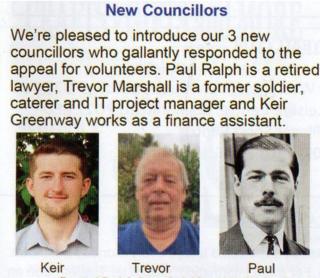 An "internal joke" has been blamed for an image of Lord Lucan being used to introduce a new parish councillor.
The photo of the errant aristocrat, who vanished after his children's nanny was murdered in London in 1974, appeared in the Bersted Parish Council newsletter.
The September edition for residents of the West Sussex parish, near Bognor Regis, used a photo in place of one for Paul Ralph, who had not supplied one.
Council chairman Brian Knight said: "It was a joke that got out of hand."
He added: "We are just dismissing it now. It was a joke and people got carried away."
Lord Lucan death certificate granted
Lord Lucan: Theories of his disappearance
Debbie Holcombe, parish council clerk, explained it was an "internal joke" which should not have gone any further.
"The councillor who creates the magazine requested a photo of Paul Ralph," she said.
"He tried to get a photo several times, and thought it would be funny to use the picture of Lord Lucan rather than leave a blank space.
"He didn't tell anyone else until it was too late."
'Editorial proof-readers'
Ms Holcombe added Mr Ralph, a retired lawyer, was not offended and had "seen the funny side of it".
The caption in the Bersted Buzz read: "We're pleased to introduce our 3 new councillors who gallantly responded to the appeal for volunteers. Paul Ralph is a retired lawyer, Trevor Marshall is a former soldier, caterer and IT project manager and Keir Greenway works as a finance assistant."
An image of the magazine page was shared online by local cartoonist Mike Jupp, who posted it on Facebook.
He said: "The bloke who published the Parish Magazine isn't too happy! But that's why most folk have editorial proof-readers."
Lord Lucan was declared dead in 1999, despite dozens of unverified sightings, although a death certificate was not granted until last year.