Hammer attacker Jamshid Piruz wins appeal against sentence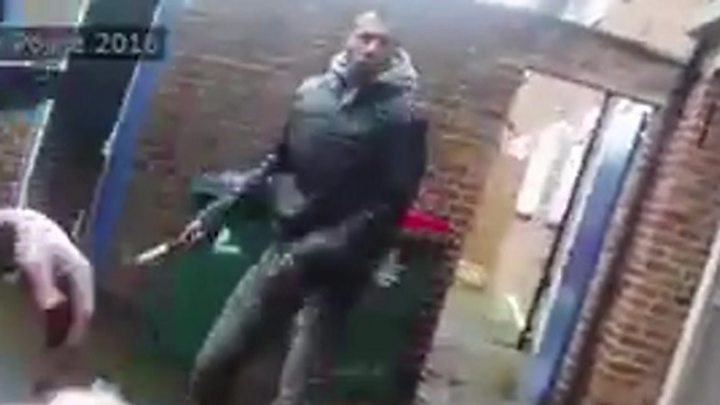 A police federation has criticised the judiciary after a murderer who launched a hammer attack on officers won an appeal against his sentence.
Jamshid Piruz lashed out at constables Jessica Chick and Stuart Young with a claw hammer during a West Sussex break-in on 7 January 2016.
He was jailed for life with a minimum of five years, but at an appeal hearing this was reduced to three years.
The Sussex Police Federation said it was "highly frustrating".
Piruz, who admitted burglary, affray and two counts of attempting to cause GBH with intent, had already served six months so could be back on the streets by the end of 2019.
'Violent past'
He previously served six years in the Netherlands for locking his female tenant in a room and then slitting her throat.
Matt Webb, chairman of the Sussex Police Federation, said: "These officers were attacked and assaulted while simply doing their job. I do not believe for one moment that had Piruz attacked a member of the judiciary while they carried out their work that he would be freed in such quick time.
"Policing is a risky business, but being assaulted is not part of the job and will never be part of the job.
"On behalf of the officers involved we will be seeking advice as to what can be done in this case, while continuing to work with colleagues around the country to bring about the overdue legislative change that will adequately protect the protectors."
A spokesman for the Courts and Tribunals Judiciary said the full written judgement would be made available in due course.
Henry Smith, MP for Crawley, said: "I'm appalled the court of appeal has reduced the sentence. He's an Afghan national with Dutch residency who had been in the country just days and had already assaulted check-in staff at Gatwick airport.
"Regardless of how long he serves, once released he needs to be immediately deported from this country."
Mr Smith said he would be writing to the justice secretary to seek assurances of that.
Police and Crime Commissioner for Sussex Katy Bourne said: "Whilst I fully accept the decision of the courts, I share the frustration of the Sussex Police Federation in that someone with such a violent past appears to have got off very lightly. The officers who dealt with this individual showed incredible bravery."