Arundel bypass options unveiled in £260m road upgrade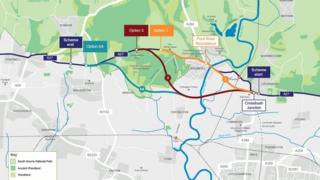 Three options to improve a congested trunk road running through the South Downs National Park have been unveiled.
Highways England said the scheme will cost between £135m to £260m.
One option follows the existing Arundel A27, while the two others run through Tortington Common and Binsted Woods.
The Tortington Common route, seen in previous consultations, has won the backing of residents and the local MP, but campaign group Scate branded it "a hangover from the 70s".
All three options will see the single carriageway expanded into a dual carriageway, Highways England said.
Nick Field, from the OneArundel A27 Bypass Support Group and Walberton Parish Council chairwoman Suzanne Clark said the majority preferred the Tortington Common option - formerly known as the "pink-blue" route and set out some 30 years ago.
Mr Field said people had seen plans "come and go" and this was an opportunity to tackle congestion and pollution.
Ms Clark said it could take half an hour to drive six miles into Arundel at peak times, and the route first discussed in 1987 was needed.
Arundel and South Downs MP Nick Herbert also said it remained a "sensible choice".
"There's a very strong environmental argument for the bypass and I think it's very important that we recognise that the existing A27 does go through the national park."
But Kay Wagland from Scate - or South Coast Alliance for Transport and the Environment - said: "The world has changed. We know that big roads don't solve congestion any more."
She said the area needed a £250m investment in railway, bus and traffic management solutions.
Highways England programme manager Valerie Stephens said: "The single carriageway A27 through Arundel has been a missing link in the road network for decades. Now, major improvements are finally within reach."
She said while any new road would have an impact, proposals had been developed with the environment in mind.
Highways England is consulting on the options until 16 October.