Shoreham air crash memorial plans unveiled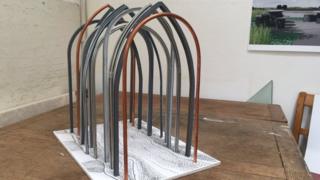 Two years on from the Shoreham air crash artists have completed plans for five artworks which will form a memorial to the 11 men who died.
In August 2015 a Hawker Hunter jet crashed on the A27 in Sussex during an air show.
Models of the artworks have now been revealed, with plans for the final elements to be installed within a year.
They will be placed along the River Adur to offer people the chance at "quiet contemplation".
The point of interests include a sculpture of 11 arches and a lighting structure on the opposite side of the river.
Commissioned by Adur District Council, David Parfitt and Jane Fordham were the artists chosen for the project.
Mr Parfitt said: "Everybody in Shoreham has an emotional response to what happened. Our responsibility with this work is to try and encompass everybody's expectation of what a memorial is."
Each part of the design forms a different purpose, while the arches symbolise each of the men who lost their lives and the lights are meant to capture an "ethereal" theme, the text is a tribute also to the first responders.
Ms Fordham said: "We thought it would be good to not try to encapsulate everything in one area, with a one off memorial. We thought it would be a good idea to use the river, so as people walked along they would find these different areas."
The families of those who died have been consulted throughout the planning process.
The cost is projected to be approximately £180,000, funded by public bodies and local business.