Seven Sisters cliff dangers spark foreign signage call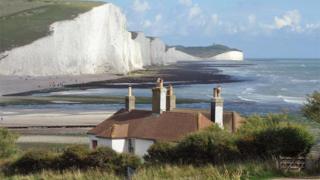 Warning signs in foreign languages may be put up at crumbling chalk cliffs on the East Sussex coast amid a rise in tourists visiting from the Far East.
Tourism South East said there had been a 45% increase in visitors from the region in the last five years.
Sightseers have been seen peering over the edge at Seven Sisters, with a South Korean student accidentally falling to her death at Cuckmere Haven in June.
Seaford Town Council said people needed to "take selfies in a safe manner".
More on this and other stories from Sussex
Craig Williams, project and facilities manager for the council, said signage would be a way of educating people "but we don't want to ruin the area".
"The people visiting is changing, and we're trying to make sure we cover all areas.
"A lot of the signage we do have on the cliff tops at Seaford Head and on the Seven Sisters is in English."
He said tour guides and tour operators could help educate tourists by translating the existing signs.
Xinys Zhanj, who is visiting from China, said she decided to visit the Sussex coastline after seeing the scenery in one of her favourite pop star's videos.
Taiwanese tourist Lea Aio said she did not know the cliffs could be dangerous.
Tourism South East say they have seen a 45% increase in tourists from Asia since 2012 with almost 750,000 visitors from China, Japan, South Korea and Taiwan last year.
Maria Caulfield, the Conservative MP for Lewes, said: "People still want to sit on the edge and look over the edge.
"I don't think people realise just how unstable those cliffs are. I think we need better signage."
Mr Williams said the council did not want to deter visitors, but added: "We need to bridge that gap in language... and be proactive for this summer."