Brighton hosts England's first Disability Pride festival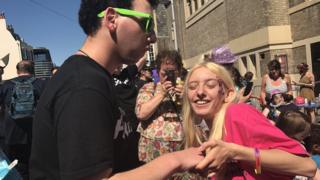 England's first Disability Pride festival is taking place in Brighton.
The one-day festival aims to celebrate and educate people about all physical and mental disabilities.
The event in New Road is being supported by disability charities Scope and Amaze, and was funded by a £10,000 National Lottery grant.
It was the brainchild of Jenny Skelton who has three adopted children, all with special needs.
The mother from Saltdean, near Brighton, said: "Living in Brighton is a bit like being in a bubble.
"It's a very inclusive community and is very accepting of people who may feel as those they don't fit anywhere else."
Ms Skelton said was inspired to raise awareness about disabilities following an incident at a pub in which she said she and her daughter, Charlie, were asked to leave.
Her daughter, who has severe learning difficulties and chromosome abnormalities, become startled by a loud noise and crouched temporarily under a table.
The pair were asked to leave, she said.
"I told [the bar staff] she's disabled and quoted the equality act to him, but he said 'I don't care, I've only got your word for it, now leave'.
"Some disabilities aren't immediately visible, but if someone says they're disabled, that really should be enough."
The event is running concurrently with Disability Pride events in New York and Italy. Ms Skelton is hoping to inspire other people across the UK to host similar events.
Actress Sarah Gordy, who has Down's Syndrome, attended the event, which saw performances from singer Daniel Wakeford from Channel 4's The Undateables, and rock band The AutistiX.