Nurse Joseph Miller struck off for Rolex watch theft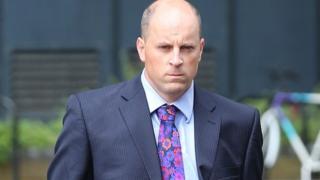 A nursing manager who stole a £5,000 Rolex watch from a dying patient has been struck off.
Joseph Miller, 40, took the Submariner watch from 68-year-old David Davies at St Richard's Hospital, Chichester, in August 2014.
He was sentenced to 14 months in prison, suspended for two years, at Portsmouth Crown Court in August 2016.
The Nursing and Midwifery Council said the seriousness of the offence was incompatible with ongoing registration.
Miller, a married father of two, admitted theft but claimed he had taken the watch by accident and then panicked when he found it at home.
He placed it in a shed for months and, despite police appeals, tried to sell it 18 months later.
But the police had registered it as stolen and Miller was later arrested.
Following his conviction, the Nursing and Midwifery Council said he had caused "emotional distress" to the patient's family and had maintained his dishonesty over a "prolonged period of time".
The conduct and competence committee panel continued: "A patient, or a patient's family, should be able to have trust and confidence in a nurse... Honesty and integrity are basic tenets of the nursing profession."
It decided the misconduct represented a "significant departure from the code of conduct and involves a dishonest breach of trust which Mr Miller made efforts to cover up".
It agreed a striking-off order was in the public interest to maintain confidence in the profession.
The panel said that although Miller accepted he would not be able to work following a strike off, he hoped to return to nursing at some point in the future.