Two convicted of Brighton carpenter David Clark fall death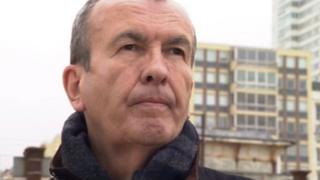 A millionaire businessman and his foreman have been found guilty of manslaughter after a carpenter fell to his death on a building site.
David Clark, 55, fell while at a property in Brighton in September 2014 and died in hospital a month later.
Michael Holland, owner of renovation company Cherrywood Investments Ltd, and Grant Oakes were both convicted at Lewes Crown Court.
They are due to be sentenced on 21 July at the same court.
Mr Clark fell 4.5 metres when a plank he was standing on snapped. He was carrying a load of between 20 and 30kg at the time.
The court heard there had been a "total failure" by Holland, 69, and Oakes, 46, to ensure the safety of their workers.
Prosecutor Thomas Kark QC said there was a "lack of consideration for safety" on the part of the defendants to their employees, despite previous warnings.
The court heard a site visit from a health and safety inspector in 2013 raised issues with the way work was being carried out on buildings next to Stanmer House in Stanmer Park.
Holland, of Kings Road, Brighton, and Oakes, of Elm Drive, Hove, were also both convicted of failures of health and safety in the work place.
Cherrywood Investments Ltd was found guilty of failure to discharge a duty under the Health and Safety at Work Act.
Gail Purdy, from the Crown Prosecution Service, said: "Both men visited the site regularly and would have seen the conditions, which included work being carried out with voids that someone could fall through, but they did nothing to prevent this happening.
"Mr Holland completely failed to grasp his personal responsibilities and even went as far as to blame the victim for his own death, despite having previously been advised by the Health and Safety Executive of the measures that needed to be taken on site."