Fire-hit St Leonards hospice faces prosecution over deaths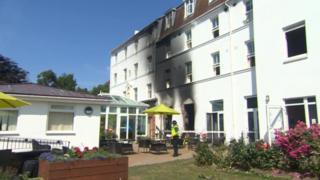 A hospice is facing prosecution by the fire service after three people died following a fire.
Rodney Smith, 67, was charged with arson after the blaze in St Michael's Hospice in St Leonards, East Sussex, but died in prison before his trial.
East Sussex Fire Authority (ESFRS) has started court proceedings against the hospice over fire safety concerns with the first hearing scheduled for 8 June.
A hospice spokeswoman said they were "disappointed" by the news.
In July 2015 twenty-three elderly patients, some of whom were terminally ill, and nine members of staff were forced to leave the building when the fire took hold.
Pearl Spencer, 78, Jill Moon, 62, and David Denness, 81, died in hospital after suffering smoke inhalation.
The fire authority ESFRS said in a statement: "A total of 13 summonses, and the evidence to support the charges, were served on the company.
"The decision to bring a fire safety prosecution was based on the evidence gathered during our investigation into a fire at St Michael's Hospice in St Leonards on Saturday 11 July 2015 and on a number of other relevant matters."
A spokeswoman for the hospice said: "We are disappointed by the ESFRS' decision to prosecute the hospice. The fire at the hospice was started by deliberate arson. We are consulting with our legal representatives on the matter.
"St. Michael's Hospice is very proud of its reputation for the highest standards of care it provides to people with life limiting illness and assures all patients, families and supporters that this care will continue unaffected."
The first hearing is due to be held at Brighton Magistrates' Court next month.