Eastbourne's Mark Sands admits MP Caroline Ansell death threats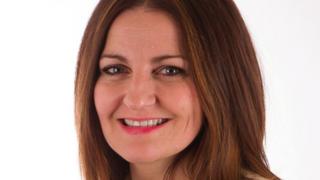 A man has admitted making threats on social media to kill a Sussex Conservative MP.
Mark Sands, 50, pleaded guilty to sending the "grossly offensive" threat on Facebook against Caroline Ansell, MP for Eastbourne and Willingdon.
Factory worker Sands, of Upperton Gardens in Eastbourne, wrote he would stab Ms Ansell "to death," Hastings Magistrates' Court heard.
He is due to be sentenced on 12 April at Brighton Magistrates' Court.
The hearing was told Sands had posted on Facebook: "If you vote to take £30 off my money, I will personally come round to your house... and stab you to death."
Threat 'very real'
In a statement read in court, Ms Ansell said the threats were "chilling" and she had now closed her personal Facebook account.
Her statement said: "It felt like a brush with something sinister."
Speaking after the hearing, she said she felt Sands' threat was "very real".
It had been difficult to tell her children about the threat on her life, she added.
"How do you find the words to make it okay?" she said.