Death of Footballers Wives' actor John Forgeham 'shock to all'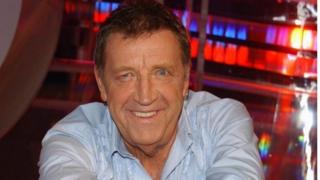 The death of Footballers' Wives star John Forgeham has been described as a "shock to all of us" by his friend, producer Simon Golding.
The 75-year-old, best known for his roles in the ITV drama and The Italian Job, died on Friday.
His daughter Jonesta paid tribute to a "wonderful and charismatic man" in the Daily Mirror.
She said: "He would want to be remembered as this wonderful actor. He lived and breathed acting."
The actor, who also starred in Crossroads and Mean Machine, is said to have fallen from his bed at his home in Worthing, West Sussex, on Wednesday and broken his collarbone.
He later suffered internal bleeding which proved fatal.
'Total grief'
Speaking to the BBC, Mr Golding paid tribute to an "extraordinary character" who told "hugely funny and entertaining stories".
He described how once, when he turned up to visit, Forgeham had forgotten he was coming.
He said: "I called him on his mobile - he was actually in Sherwood Forest in Nottingham playing conkers with comedian Freddie Starr!"
He added: "I am in touch with both daughter and son... you can imagine their total grief.
"He was ill for some time and had not really worked for a year or so.
"But he had a new flat around Christmas and was on the mend - so it was a shock to all of us.
"He has left a void in my life."
Friends and colleagues have paid tribute on Twitter, including co-stars Vinnie Jones and Susie Amy.
Forgeham, who was born in Kidderminster, Worcestershire, also leaves a son, Jason, and five grandchildren.