Burgess Hill burst pipe leaves 3,500 without water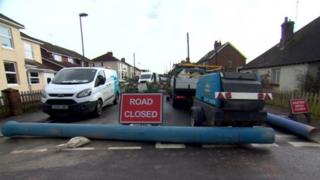 About 3,500 people were left without water after a mains pipe burst in West Sussex.
South East Water said a large water main burst in Burgess Hill, but water was re-routed around the network and supplies were being restored.
The problem in Cromwell Road also led to floods in Newport, Fairfield and Royal George roads. The company has not yet said how many homes were affected.
Bottled water has been taken to the area, a spokeswoman said.
She said vulnerable customers were being supported.
Operations director Dr Simon Earl said: "Our repair team is working as quickly as possible to repair the burst pipe and get the last remaining customers' supplies back to normal.
"We have an incident response team set up and they will be in place until all supplies have been restored."