More than a dozen pregnant ewes killed near Ninfield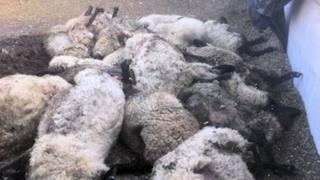 Eighteen ewes heavily in lamb have been killed in a suspected sheep worrying incident involving dogs.
The sheep were being grazed in a field off the A269 just south of Boreham Bridge, near Ninfield, in East Sussex.
It is thought the flock were panicked into running out of their field by dogs and were later hit by a car.
The driver of the BMW was reported to have been "very shaken" after the accident near the entrance to Little Standard Hill Farm last Sunday night.
Sussex Police said a neighbouring property owner had reported seeing two people walking two dogs, thought to be brown Labradors, in the area during the afternoon despite there being no rights of way.
It is thought the dogs may have frightened the sheep causing them to stampede out of the field as fencing had been stretched and broken.
The sheep later strayed on to the road, where they were hit.
Officers found the 18 sheep lying dead on the road and in a nearby ditch.
Sgt Tom Carter, of Sussex Police, urged people to keep their dogs on a lead around livestock and said the motorist was not to blame.
"These sheep alone were worth more than £2,500 and their unborn lambs a further £1,350 - and that's assuming that each ewe was only carrying one lamb.
"A farmer can legally shoot a dog that is chasing livestock and seek compensation from the person responsible for the animal, so please don't take the risk."