Guildford Cathedral faces 'probable closure'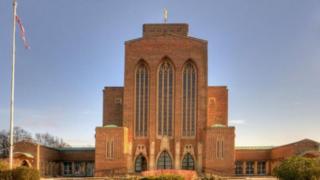 A cathedral is facing closure after plans to sell off nearby land for development were rejected.
Mounting repair bills to the 20th century Guildford church have seen the diocese try to sell the land at Stag Hill.
But Guildford Borough Council rejected the plans after receiving objections from the public.
The Rt Rev Andrew Watson said the cathedral faced the probability of financial failure.
He added: "We have looked at every possible 'plan b' but have found no other option open to us."
The Archbishop of Canterbury, Justin Welby, also submitted a plea to the council to support the proposal for 134 new homes on the unused land saying churches had huge social and economic benefits for an area.
Hundreds of comments were submitted on the proposals, but many objected over the loss of green space and fears over traffic, noise and flooding.
During the planning meeting, most councillors refused the application.
A spokesman for the Trustees of the Guildford Cathedral Chapter said: "Clearly we are disappointed by the decision. We have a responsibility to consider all options open to securing the Cathedral's long-term future. We will carefully consider the reasons for refusal before deciding the next steps."
Dean Gwilliam said fundraisers are not enough, and the original hope was to use the money to make necessary repairs and set up an endowment to generate investment income and secure the cathedral's future.
---
Guildford Cathedral: Fact file
Mother church in the diocese of Guildford
Covers 163 parishes and 93 church schools
Has 50,000 regular worshipping Anglicans
Hosts large community events including occasions for the armed forces and the Queen
Community venue - from hobbies to toddler sessions and hosting disabled groups
Doubles up as a night shelter for the homeless and food bank
---