Eastbourne tourism firms look at 'mass appeal' over rates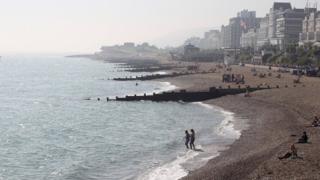 Eastbourne tourism firms are planning a mass appeal over business rates rises that have seen some bills soar.
The government published new rateable values last year, with London and the South East expected to see higher rates because of soaring property values.
Guesthouse owner Karen Cheater, whose bill will rise tenfold, said Eastbourne Hospitality Association (EHA) planned to appeal on behalf of the town.
The government said valuations could be challenged and many rates would fall.
Darren Weir, from EHA, said the association would be hiring a consultant to investigate rate calculations and then a block appeal would be considered.
He said Eastbourne had about 250 accommodation businesses, including hotels, guesthouses, self-catering accommodation and holiday lets, but it was too soon to say whether any of them would have to close.
Mrs Cheater, who runs The Langtons guesthouse, said her rateable value had gone from £6,600 to £14,750 and her bill was going from about £300 to more than £3,000 a year, which would rise further.
Asking how the increase could be justified, she said: "Room rates haven't gone up that much. The value of properties hasn't gone up that much."
She said she would have to cut back on casual staff.
A government spokesman said: "This government is delivering the biggest ever cut in business rates, meaning from April a third of all businesses will pay no rates at all, and nearly a million businesses will see their bills cut... including a £1,500 reduction in rates for a small B&B in 2017.
"Three-quarters of businesses will see either no change or a fall in their bills from this latest revaluation."
---
How business rates are calculated
Business rates are charged on most non-domestic properties, such as shops, offices and pubs, and they also include holiday rental homes, guesthouses and hotels.
They are calculated on the property's rateable value, which is based on an estimate by the Valuation Office.
The rateable value is the rental valuation of a property.
But valuations for guesthouses and hotels will take other factors into account - such as turnover, numbers of bedrooms, location and quality.
---