Hove man arrested over cycle bottom-slapping attacks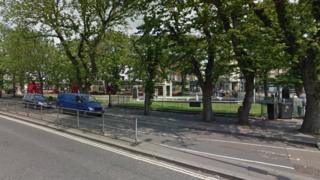 A man has been arrested on suspicion of committing a string of sexual assaults while riding a bicycle.
The 20-year-old man from Hove was initially arrested over two sexual assaults on Friday, and then held over a further 22 similar attacks between 29 December and 30 January,
Women had reported being grabbed or touched from behind, or having sexual gestures made towards them.
The man has been released on bail until 3 March, Sussex Police said.
A man was seen cycling behind a woman near the Old Steine fountain in Brighton at 06:45 GMT on Friday before smacking her bottom, a police spokesman said.
He then followed another woman in Old Steine Gardens on his bike five minutes later and was seen to smack her bottom before cycling away.
Sussex Police have asked both women to come forward.