D-Day veterans receive highest French honour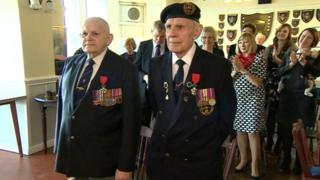 Two D-Day veterans have been awarded France's highest military honour for service during World War Two.
The Chevalier de l'Ordre National de la Legion d'Honneur medals were awarded to Ernest Frobisher, 96, from Eastbourne and Arthur Burrett, 90, from Seaford at the town's British Legion.
Mr Frobisher said: "It's something I never dreamt of getting."
Arthur Burrett said he was also receiving the award for his father who fought in the Battle of the Somme.
"I'm here for my father as much as myself," he said.
'Really chuffed'
Mr Frobisher said: "It's something I never dreamt of getting. A lot of the places that I went to I didn't know where I was going.
"You just keep following the lorry in front.
"On the first trip to France after the war, I was walking along with some of my pals when a little lad came along and held my hand and said 'thank you'. That really choked me."
"I know they respect what we accomplished for them."
"I'm really chuffed."
'Displaced people'
Arthur Burrett said: "I mainly want to receive this because of my father who rescued two officers in the First World War, and there was no recognition, just a piece of paper."
"I was only 17 and 18 during the war," he added.
"I was on the landing craft mainly, in France and Italy and going over the African coast taking the troops over," Mr Burrett said.
"We were picking up a lot of displaced people and had them all on our ship. At the end of the war we took the ship back to America and came home on the Queen Mary. "