Posts mocking TV star Katie Price's son investigated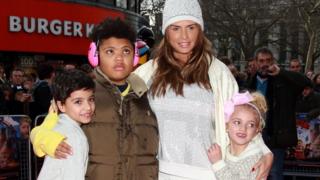 Offensive messages posted about TV star Katie Price's disabled son are being investigated by Sussex Police.
Officers are looking into posts sent from an account in the Brighton area after the model asked her Twitter followers to help identify the culprit.
She posted a screengrab of a message she received which featured two images mocking her 14-year-old son, Harvey, who is blind.
She wrote: "Caught out!! Another bully on our hands. Anyone know this guy??"
Later, she tweeted: "Thank you to everyone for supporting me with Harvey's bully's [sic]
"This is something I feel strongly about and will always raise awareness for."
A spokesman for Sussex Police said: "Police are aware of offensive social media posts targeting Katie Price's son and an investigation has begun."