Sussex mental health trust 'still has more to do'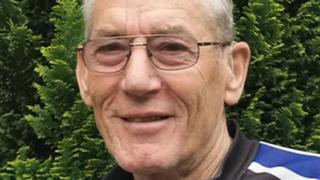 A mental health trust criticised in a review of 10 killings still requires improvement, inspectors have said.
The Care Quality Commission found Sussex Partnership NHS Foundation Trust had improved since the last inspection with some areas now rated "good".
However, improvements were still needed for services to be "consistently safe, effective and well-led", they said.
An independent review was launched after the stabbing to death of Donald Lock, 79, by Matthew Daley in 2015.
Instigated by the trust, it examined deaths linked to patients cared for between 2007 and 2015.
It concluded it severely underestimated the threat posed by some of its patients.
Daley, 35, stabbed Mr Lock 39 times on the A24 in Findon, after the pensioner ran into the back of his vehicle.
Sussex Partnership NHS Foundation Trust apologised for its role.
In their latest report following an inspection in September, inspectors said there needed to be improvements in managing medicines, completing and updating risk assessments and staff training.
The trust also needed to do more to eliminate mixed sex wards where there are older people with mental health problems.
Dr Paul Lelliott, the Care Quality Commission's (CQC) deputy chief inspector of hospitals, said most staff were found to be "caring, kind and respectful towards patients, people who use services and their carers".
"They also involved them in decisions about their care.
"For these reasons, we rated all of the core services as good for caring and the child and adolescent mental health wards as outstanding."
Trust chief executive Colm Donaghy said: "I think we're really close to being rated 'good' and I hope this is the view the CQC reach when they come back to inspect us again."