Brighton & Hove Council reveals 'painful' budget plans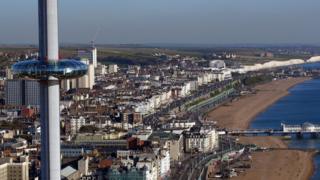 People in Brighton and Hove are facing cuts to services, job losses and a rise in council tax of nearly 4%.
The council has revealed its budget plans for the 2017/2018 period, during which it aims to save more than £24m.
Brighton and Hove City Council leader Warren Morgan said after six years of government cuts "there are no easy savings left".
But Council Green Party leader Phelim MacCafferty said: "The proposals as they stand are unacceptable".
Cllr Morgan added: "The pressures we are facing... mean that we facing up to some very challenging, very difficult, very painful cuts."
---
Proposals include:
140 council job losses
3.99% rise in council tax - roughly £55 a year for a band D taxpayer
£750,000 saving by shutting down the non-statutory youth service
£1.4m cut to sensory support for disabled adults
£223,000 saved by outsourcing the council's supported accommodation service for adults with learning disabilities
£600,000 cut to budget for tackling substance misuse
£455,000 cut to council buildings maintenance
£700,000 cut to temporary accommodation budget
£112,000 cut to budget for sexually transmitted infection (STI) prevention
£650,000 saving by reviewing provision to children with learning disabilities
£790,000 out of the city's Healthy Child Programme
---
Analysis: BBC Sussex political reporter Benjamin Weisz
Another year, the same old story: Rising costs in services the council must provide by law, coupled with a shrinking grant from central government.
This year sees even larger cuts than last and the added jeopardy of not yet knowing where £3.1m of them will come from.
Labour says it has safeguarded services for the most vulnerable - rough sleepers, domestic abuse victims and children. It has also avoided making cuts to areas that previously proved difficult to get past the opposition - like toilets and libraries.
That's important, because ahead of the vote, we enter a period of political horse trading. The minority Labour administration needs the backing of the Greens or Tories to pass this budget. We know the Greens won't back the plans as they stand.
But every stay of the axe means it must fall elsewhere - and this draft budget has very little room for manoeuvre.
---
Independent health consultant Andrew Hoyt said of the cut to STI infection prevention: "It's going to have a huge impact across the city and will create problems in the future. Prevention is always much cheaper than treatment."
Andy Winter, chief executive of Brighton Housing Trust, expressed concern about the cut of £138,000 for residential rehab.
"That is the most effective form of drug treatment. If they are going to cut the excellent service run by St Thomas and Brighton Housing Trust I would be very, very worried indeed," he said.
Brighton and Hove councillors will vote on the proposals in February.