Gatwick Airport profits fall despite passenger increase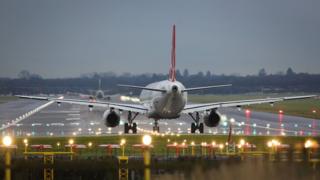 Profits at London Gatwick Airport fell by 13% in the first half of the year despite increased passenger numbers.
The West Sussex airport recorded a pre-tax profit of £116m in the six months to 30 September 2016, compared with £134m during the same period last year.
A total of 25 million passengers travelled through Gatwick in the first half of the year, an increase of 6%.
Gatwick chief executive Stewart Wingate said the airport's growth would slow next year.
He said: "We're confident that we can continue growing the airport but in the long run we're still continuing to offer the government the opportunity of expanding Gatwick."
In October Gatwick's bid to build a second runway was rejected by the government in favour of expansion at Heathrow.
Mr Wingate added that the airport was "very happy to compete with Heathrow."
Gatwick is undergoing a £1.2 billion five-year investment project to expand the departure lounges and shopping facilities in its two terminals, improve its railway station, and provide more parking spaces.