Bognor seafront restaurant blaze tackled amid Storm Angus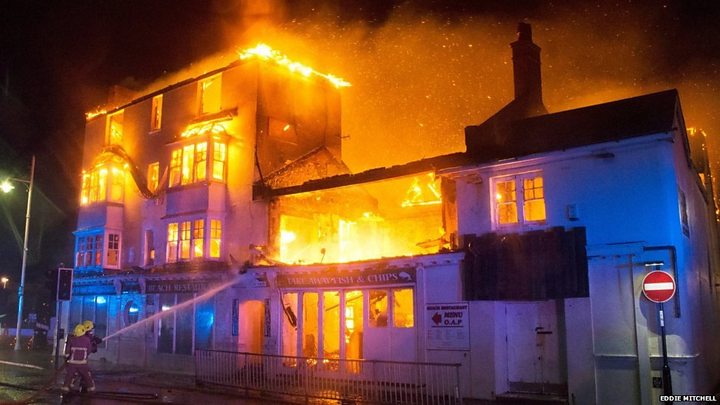 A "major" fire on Bognor Regis seafront has been brought under control.
Fourteen fire engines were sent to tackle the blaze, which affected a row of buildings on The Esplanade, in the early hours of Sunday.
West Sussex fire service said some of the properties were derelict and the buildings were completely destroyed.
Emergency teams were at the scene throughout Sunday and inspections by firefighters were due to continue throughout the night.
Residents were evacuated to a leisure centre as crews faced "difficult storm conditions", the fire service said.
Sussex Police said the fire broke out at Beach Restaurant and affected derelict buildings next to it.
A police spokesman said a gas supply caught fire and had kept the flames going, but emphasised emergency teams were not dealing with a gas mains explosion.
About 30 residents were evacuated from flats close to the fire when crews were called just before 04:00 GMT.
Fifty firefighters were involved in tackling the blaze at its height.
Lead officer Adrian Murphy said: "This incident has taken place in the midst of a major storm and it was difficult to stand when we arrived on the seafront.
"Our key priority now is to work with the displaced residents to get them safely home as soon as possible."
One person was treated for smoke inhalation but no other injuries were reported.
The Esplanade remained closed at the junctions with West Street and Lennox Street and the closure was likely to remain in place throughout the day and potentially into the week, police said.
The blaze is being investigated.
Some local residents described the restaurant as selling the best fish and chips in Bognor.
On Twitter, Paige posted: "can't believe the best chippy in bognor has burnt down."
And Chris Jennings wrote: "My favourite chip restaurant has burned down in Bognor Regis. It's safe to say 2016 has not been a good year."