Nurse suing Brighton hospital trust after patient attack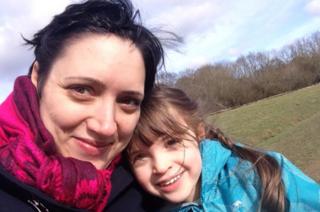 A nurse whose career was ended when she was attacked by a patient is taking legal action against an NHS trust.
Louise Jago, 33, was thrown against a door at the Princess Royal Hospital in Haywards Heath, West Sussex, while helping a man to the toilet.
She is taking legal action against Brighton and Sussex University Hospitals NHS Trust, claiming cutbacks put staff at risk.
The trust said it took staff welfare very seriously.
During the in 2012 attack, the mother of one was lifted into the air by her arms before she broke free.
Ms Jago, from Uckfield, East Sussex, is now unable to pick up her five-year-old daughter and constantly suffers pain in her neck, shoulder, wrist and thumb.
She has been told she will have to live with chronic pain for the rest of her life.
She has suffered depression and is no longer physically able to carry on working as a nurse following the attack.
"I'm a 33-year-old woman with the body of a 60-year-old," she said.
Ms Jago blamed "staff shortages caused by government-imposed NHS cutbacks" for the incident.
'Authorities knew he was dangerous'
She was working on the neurological ward at the time of the incident
"The hospital authorities knew he was dangerous," she said.
"He had held another nurse up against the wall and threatened to strangle her.
"One night he chased me down the ward, threatening to kill me. I had to hide in a staff bathroom.
"We all submitted incident reports - there were two or three daily. This was going on for weeks, if not months."
One other nurse was on duty at the time of the attack.
A spokesman for Brighton and Sussex University Hospitals NHS Trust said: "The trust takes staff welfare very seriously and endeavours to ensure all employees are safe within the workplace.
"As this litigation is ongoing, we are unable to comment further at this time."