Paul Jefferies death: 'I think I've killed someone' son tells mum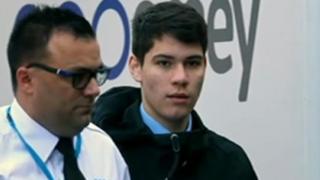 A teenager told his mother "I think I've killed somebody", the jury at his murder trial has heard.
Ben Bamford, 18, from Crowborough, denies murdering Paul Jefferies, 52, in a "sustained attack" on 23 February.
The body of the government tax advisor was found at his house in Coggins Mill Lane, Mayfield, two days later.
Mr Bamford told his mother, Annmarie, that he stabbed Mr Jefferies after he tried to rape him, the jury at Lewes Crown Court heard.
The prosecution claimed Mr Bamford set out to rob Mr Jefferies after they had met on the gay dating app Grindr two years earlier, after he built up drug debts of about £400.
'Dumb-founded'
Mrs Bamford said she believed her son was going out with friends, but when she woke up the following morning she had a voicemail message saying he had been admitted to hospital after saying he had self-harmed.
When she went to visit him Mr Bamford told her he had been attacked by "some man" but said he had claimed to have self-harmed so the police would not get involved.
After being discharged he told his father, Richard, about his debts.
Mrs Bamford told the court: "I said, 'I need to know what's going on'. He got quite tearful and angry and smashed a mirror.
"Then he shouted, 'I think I've killed somebody'."
Mrs Bamford said she was left "dumbfounded" by her son's claim.
She said her son was 15 when he first met Mr Jefferies and he had gone to his house to "get some money".
Mrs Bamford told the court; "He said that there was a knife involved, but that he didn't know how his hand had become injured.
"He said he had been drinking, smoking cannabis and taken a little bit of diazepam. He then said that the man had come on to him and tried to rape him.
"He said there was a struggle and he said he stabbed him," she told the court.
"I said to Ben, 'We need to go to the police' and he said, 'Yes, I know'."
The case continues.