Paul Jefferies death: 'Copious amounts of blood' in cottage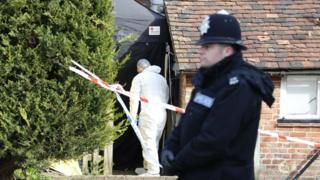 Images of "copious amounts of blood" found in the cottage where a government advisor was killed have been shown in the trial of a teenager accused of murder.
The body of Paul Jefferies, 52, was found by police at his house in Coggins Mill Lane, Mayfield, on 25 February.
Lewes Crown Court heard his body was found in the blood-splattered kitchen.
Ben Bamford, 18, from Crowborough, denies murdering Mr Jefferies in a "sustained attack" on 23 February.
Blood marks were seen on the stairs leading up to his bedroom, where bed sheets and pillows were also heavily stained, the jury was told.
Mr Jefferies had his throat slashed, which severed his jugular and windpipe, and sustained numerous other injuries, including an almost-severed left-hand thumb.
The prosecution claims Mr Bamford set out to rob Mr Jefferies after they met on the gay dating app Grindr about two years earlier.
Blood soaked bed
Adam Newton, a Sussex Police crime scene investigator, talked the jury through a 360-degree image of Mr Jefferies' cottage, taken the morning after his body was discovered.
He said: "The overall state of the property was clean and tidy bar the copious amount of blood and disruption to the various items in the property.
"There was no evidence of any search."
Mr Jefferies was a high-ranking HMRC civil servant who advised senior ministers on tax policy.
Mr Bamford had drugs debts of about £400, the court has heard.
He claims he was trying to protect himself from Mr Jefferies after he had "come on to him" and "tried to rape him".
The jury was told glass broken into about 49 pieces was found on Mr Jefferies' double bed and a horizontal cut was seen on a pillow case on the blood soaked bed.
A knife was also found in the bedroom.
The case continues.