Homeless man 'set on fire and robbed' in Worthing's Royal Arcade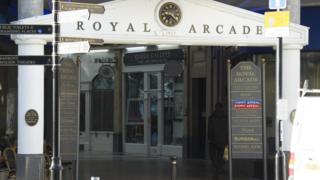 A homeless man was set on fire and robbed as he slept in a shopping centre, police have revealed.
The 51-year-old woke up just before 07:00 GMT on Sunday in Worthing's Royal Arcade to find flames around his head and face.
He suffered minor injuries to his cheek, eyelids and head and was treated by an ambulance at the scene.
A 38-year-old man has been arrested by police and bailed while investigations continue.
Det Sergeant Simon Smith said: "The victim tried to chase the man and described him as white, in his 20s and wearing a white hooded top."
Police appealed for anyone who might have been near the Royal Arcade early on Sunday or saw someone running away or acting suspiciously with a red backpack to get in touch.