Lewes bonfire: Two arrests and 80 treated for injuries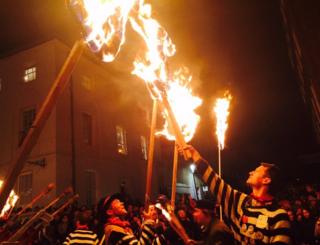 About 80 people were treated for injuries and two people were arrested at the annual bonfire celebrations in the East Sussex town of Lewes.
Up to 40,000 people are believed to have attended the event on Saturday night, which some had feared would be affected by a Southern rail strike.
Sussex Police said most of the injuries were "relatively minor".
The two arrests were for possession of a knife and affray. A number of people were fined for throwing fireworks.
Ch Supt Neil Honnor said it had been a "safe and enjoyable" evening.
A surreal evening of fire and fury
Several effigies of US presidential candidate Donald Trump were among those paraded through the narrow streets by six of the seven bonfire societies.
More than 30 different processions with flaming torches and burning crosses made their way through the town.
Each society then lit a bonfire, accompanied by a firework display.
The event celebrates the failure of the Gunpowder Plot of 1605, and the burning of 17 Protestant martyrs at the stake in the town in the 16th Century.