Revellers descend on Lewes for bonfire celebrations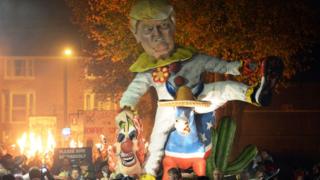 Tens of thousands of people have been taking part in the bonfire celebrations in the East Sussex town of Lewes.
Armed police were on patrol amid greater security at the annual event because of "the national security threat".
A Southern rail strike meant no trains stopped in the town or at nearby stations, although spectator numbers were still healthy.
Several effigies of Donald Trump were paraded through the town.
One Twitter user, Heeeere's Michael, described the atmosphere as "awesome".
A surreal evening of fire and fury
"Half the town are wearing society colours, the other half are boarding up windows," he said.
As every year, shop windows were boarded up ahead of the processions through the streets of Lewes by six of the seven bonfire societies in the town.
More than 30 different processions made their way through the town.
Each society then held a bonfire, followed by a firework display.