Cockle pickers filmed illegally 'harvesting' protected Adur Estuary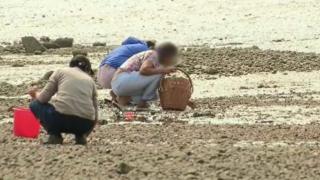 Illegal cockle picking has been taking place on a large scale at a protected site in West Sussex, the BBC has found.
Groups of men, women and children have been filmed collecting large quantities of the clams at the Adur Estuary in Shoreham.
Cockles are a vital food source for birds and picking them can damage the conservation area's ecosystem.
Eating the shellfish is also risky as raw sewage is constantly pumped into the river by passing barges.
The estuary is a Site of Special Scientific Interest (SSSI) and access to it is restricted to allow habitats to develop naturally.
Wesley Smith of the RSPB said: "It is one of the most important sites on the south coast, one that we really need to protect."
But an undercover team from BBC One's Inside Out programme has filmed groups of people apparently harvesting large quantities of cockles.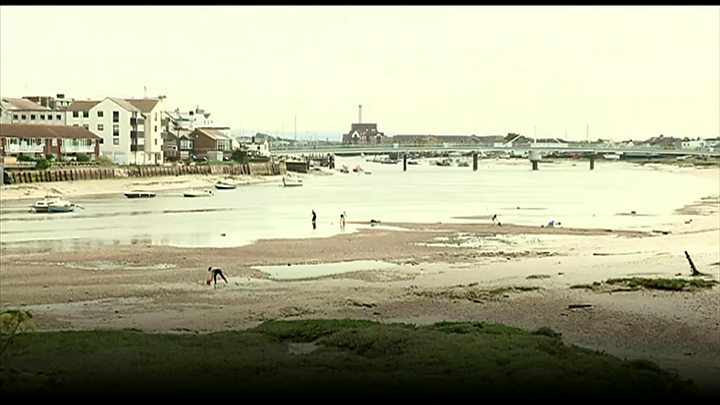 Local fisherman Graham Poulter told the programme: "I counted 28 out there in one day."
Dr Sean Ashworth, of Sussex Inshore Fisheries Conservation Authority (IFCA), said: "It looks like... a commercial activity and if it is, it is an illegal activity."
'Faecal contamination'
Paula Milton of the Food Health and Safety Unit at Adur & Worthing Councils warned: "Eating cockles from the Adur can make you very, very ill.
"We take regular samples of water from the river, sometimes we have found high levels of E. Coli which are indicators of faecal contamination."
Local resident Simon Cooper contacted police but said they were not interested, so he confronted the pickers himself.
He said they "became quite aggressive" then simply moved to the other side of the river. He described it as a "harvesting" of the riverbed on a "huge scale".
Many of the pickers, said to be of south-east Asian appearance, were women in their 20s and the BBC also saw children, some under 10.
The authorities suspect some are victims of human trafficking. Dr Ashworth said: "The human story is a tragic one."
On its website, Adur Council says: "Reports have been received of people in large groups, collecting cockles and mussels from the River Adur in the Norfolk Bridge area.
"This area is not classified under food safety regulations to permit the harvesting of shellfish and it is an offence to remove any shellfish for the purpose of commercial supply or sale."
The council has appealed for anyone with information to get in touch.