Bullying row Brighton and Hove Labour Party to split up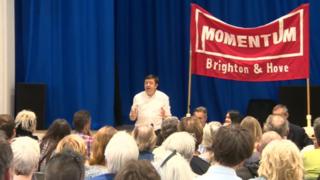 The Labour Party's Brighton and Hove branch, suspended amid claims of bullying and intimidation, is to be split into three.
The branch was suspended in July after complaints of "alleged abusive behaviour" at its annual general meeting.
Mark Sandell, who was briefly elected chairman, has been expelled from the party.
At least 15 members of the local party have also been suspended, Labour said.
Mr Sandell said: "This is an attempt to silence democracy by scapegoating people, by purging people and by denying people the right to have the people they voted for run the party they support."
Councillor Lloyd Russell-Moyle, acting chair of the local party, said: "It's not about getting rid of bad apples. It is about making sure that we are a party fit to work for our city and our country."
The Labour Party said it would not be commenting on individual expulsions.
Analysis: Helen Catt, BBC South East political editor
At the annual general meeting in July a number of people who were big supporters of Jeremy Corbyn were voted on to the committee which runs the local party, but there were complaints made about the meeting itself, some disputed, about how the vote was conducted.
Labour nationally decided to void those elections results and suspend the local party while it investigated.
This has added to the tensions between those who are big fans of Jeremy Corbyn and those who are not. It has all got pretty toxic.
Now we are hearing the national executive committee is going to split the party up, corresponding to the three constituencies in Brighton and Hove.
We should hear more in the coming months as to how this new three-constituency system is going to work.