'Fighting and swearing' Seaford Trek club shut down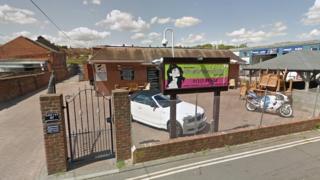 A nightclub whose neighbours slept in bathrooms to escape the "noise of fighting, shouting and swearing" has been shut down for good.
Trek nightclub in Seaford had a history of violence, including a doorman being left with life-changing injuries and a mass brawl involving up to 20 people.
The club's licence was suspended in September. Lewes District Council has now permanently revoked it.
Trek's manager previously said the club had not had the support of the police.
It surrendered its licence prior to the committee meeting on Monday.
A council spokeswoman said the Licensing Act allowed the club's owners a right of appeal within 21 days.
'End of their tether'
Sussex Police submitted its concerns to the council and said it had been called to 25 incidents at the club in a year.
Lewes' Conservative MP, Maria Caulfield, also sent in evidence on behalf of 29 families who had been affected by the behaviour of the club's customers.
Residents had reported being forced to sleep in their bathrooms at the back of their houses to avoid the noise of fighting and shouting keeping them awake.
Jean Irving, head of licensing and public safety the force, said residents had been "at the end of their tether".
She said: "In the 13 years I have held my post, I have never experienced such denial by a premises owner, such disregard for residents, such a desire to make money at any cost."
Trek has been contacted for comment.