Drop in day visitors to Brighton and Hove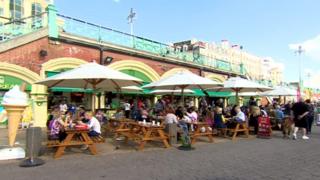 The number of day trippers visiting Brighton and Hove has dropped by almost one million in a year, figures reveal.
Research commissioned by the city council showed a 9% fall in 2015 from 10m the year before, and a 6.4% drop in related expenditure to £318m.
However, the number of overnight visits last year was up by 1.4% at 4.9m.
Business owners have blamed the fall on high parking charges, but the council said it did not think the figures indicated "any real need for concern".
Car park charges vary, but can be as much as £12 for nine hours at the Regency Square car park nearest to the i360 attraction.
Neil Sykes, owner of the Modern World Cafe Bar, said he spoke to tourists on a daily basis and they always said the same thing.
"The reason they will not come back to Brighton - although they've had a wonderful day and they love Brighton, [and] the weather's been great... they all say the same thing, [that] they will not come back next year because of the extortionate parking rates," he said.
Councillor Alan Robins, who chairs the economic, development and culture committee on Brighton and Hove City Council, countered: "I think we're doing all right.
"The stayers are going to bring the money in and that's what we're looking to promote."
He added: "Brighton and Hove is, has been, and always will be, a fantastic place to visit, and it's why we're the number one tourist destination outside London.
"Each and every one of these people is important for our city and economy and we will always encourage both day trippers and overnight stayers to visit."
He said the council had sought to improve the city and had already invested £1bn on seafront projects, which included the i360 tower and the Marina, Brighton Centre, Black Rock and King Alfred redevelopments.