Bucket chain formed to put out crashed car fire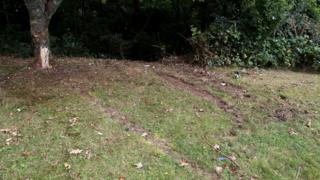 Onlookers formed a chain with buckets and a hose to douse a blazing sports car after it crashed and burst into flames.
They went to the rescue after a Nissan 370Z GT Nismo crashed into trees in Harrier Lane, Battle, at about 14:30 BST on Monday.
A 29-year-old man who was in the passenger seat managed to get out despite being seriously injured.
The driver, a 49-year-old man from Battle, was freed by firefighters.
He was flown to the Royal Sussex County Hospital in Brighton where he remains in a serious condition, having suffered multiple injuries and burns.
The passenger was taken to the Conquest Hospital in St Leonards by ambulance where he remains in a stable condition, Sussex Police said.
Trapped man
Tom Jones, 35, who was working nearby, said: "I heard a huge bang. There was no skidding before that. It was a really weird bang. It was massive and then it was dead quiet."
He said: "When I looked over a high fence I could see smoke. I climbed the fence and realised there was a car on fire.
"I got to it and managed to pull someone out, thinking that they were the only person inside it, but the person said someone else was in there.
"I then went into panic mode. There was a fire underneath the bonnet," Mr Jones said.
"The man was unconscious and I couldn't see his face."
He said three other men, and a woman who brought out a hosepipe, came to help,
"I was filling up buckets of water to try to keep the flames from this man who was trapped," Mr Jones said.