Billingshurst farm fined for polluting river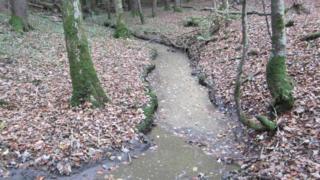 A dairy farm has been ordered to pay more than £8,000 for allowing effluent to pollute an 8-mile (13km) stretch of a river.
Crouchelands Farms Ltd of Kirdford, West Sussex, pleaded guilty at Worthing Magistrates to discharging the waste into the River Kird in December 2013.
The company was fined £4,000 and ordered to pay costs of £3,910 and a £120 victim surcharge.
The Environment Agency said fish and other river life had been damaged.
The agency said the farm's operators had confirmed dirty water and diluted slurry had been washed into the stream from a nearby field.
A spokesman for the agency said: "The sediments from such a pollution can also have a long term adverse impact on a watercourse, taking years for it to recover."
Michael Turner from the Environment Agency, said: "This was a totally avoidable incident as Crouchland Farms Limited were fully aware of the risks associated with the handling and spreading of farm effluent."
Leon Mekitarian, managing director of Crouchland Farm said: "There are few things more important to us than looking after the local environment, so that we and our local community can enjoy it.
"I'd like to apologise on behalf of all of us at Crouchland Farm, and the contractors that were employed at the time, for what took place."