Sussex hospital drivers still unpaid after weeks without wages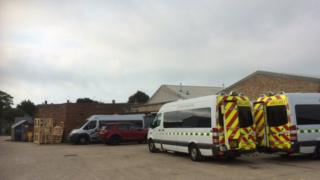 Sub-contractors who provide hospital transport in Sussex remain unpaid despite assurances from the NHS, the GMB union says.
Some staff working for Docklands, a sub-contractor of Coperforma, have not been paid for up to seven weeks.
Coperforma has faced criticism since taking over the non-emergency hospital transport service.
But the company said it had not made payments as the staff were not their employees.
Coperforma had agreed to pay Docklands' staff by last Friday through the GMB union, the NHS said on Thursday.
A union spokesman said the money had not been transferred and now the NHS clinical commissioning group (CCG) would have to step in.
High Weald Lewes Havens CCG said on Thursday it would have to intervene if Coperforma was unable to pay staff by the end of the week, and would pay the outstanding salaries itself.
Gary Palmer from the GMB said: "We haven't received the money and still need permission from Docklands to pay its staff.
"Coperforma won't deal with us directly and will only go through Acas.
"I'm hoping the 20 or so [Docklands] staff will be paid by Tuesday."
A spokesman for Coperforma said: "The management of Coperforma Limited has noted the statement issued by High Weald Lewes Havens CCG that unless the company pays the staff of Docklands Medical Services by Friday 23 September 2016 the commissioners would step in to pay them on 26th September.
"Coperforma has not made any payments because, as the commissioners' statement confirms, these workers are not and were never employees of Coperforma."