East Sussex mystery bird artist dubbed 'Planksie'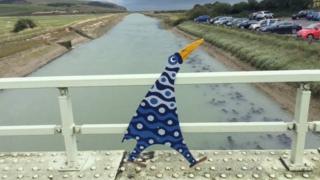 The identity of a mystery artist who put up 12 wooden bird sculptures has baffled locals who have dubbed him "Planksie".
The colourful figures appeared in Seaford and Newhaven in East Sussex but no one knows who put them there.
They first arrived about the same time as the Artwave arts festival but are not believed to be linked.
Seaford Town Council said it had "no idea" who is behind it but the ducks "aren't too pleased".
'Really colourful'
June Jaundoo, posting on Facebook, said: "Seaford is buzzing atm, we have a mystery artist nicknamed Planksie, who is leaving painted birds in random spots everywhere."
Seaford councillor Phil Boorman said: "They are absolutely amazing - we love them as a council and they bring a smile to people's faces."
"We have absolutely no idea who is behind it."
But he added: "The ducks aren't too pleased to see them though."
The sculptures were placed at Exceat Bridge at Cuckmere, Friston Ponds, the Coastguard Cottages and Cuckmere Haven.
Mr Boorman said he did not believe the "really colourful" birds were connected to the annual festival in Lewes.