Sussex hospital transport firm Coperforma 'faces collapse'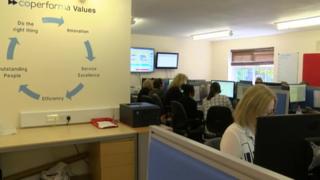 A private firm responsible for hospital patient transport is facing "collapse", say sub-contractors providing it.
Coperforma has faced serious criticism in Sussex since taking over the non-emergency service in April.
Four companies contracted by it have told NHS managers of serious financial concerns, and said they were "unable to operate effectively".
Coperforma rejected the claims and said it was "financially sound". The NHS said it was establishing the facts.
But, in an email leaked to BBC South East, the sub-contractors claimed problems had reached "critical levels".
The firms had tried "without success to work with Coperforma to build a good working relationship and assist them where possible in delivering the service to the highest possible standard", the email continues.
"Due to the way Coperforma operate and the compounded effects of an inadequate operating system, inexperienced staff and a top heavy management structure they are now struggling financially.
"To deal with this Coperforma are now deliberately withholding and refusing to pay invoices to all providers in an attempt to maintain cash flow."
'Invoices disputed'
The companies claimed the three main providers are owed more than £1.2m, and warned NHS managers "to act now before the service collapses".
"If all outstanding invoices are not paid in full by Coperforma within 10 days of this email we will have no option other than to start legal proceedings against Coperforma with an immediate reduction in the provision of services as we will no longer be in a position to pay staff, maintain vehicles etc," they said.
Coperforma "vigorously rejected the allegations", insisting it was a "financially sound company".
"All contractual payments are up to date but regrettably invoices are having to be disputed - but as the problems are rectified the company commits to settling the agreed balances without any further delay," it said.
"Patients can be assured that there will be no interruption to their ambulance service."
For the NHS, High Weald Lewes Havens Clinical Commissioning Group (CCG) said Sussex CCGs had recently been made aware of the concerns of some Coperforma contractors.
"We are looking into this to establish the facts and any actions that need to be taken," it said.