Crawley Queens Square redevelopment work begins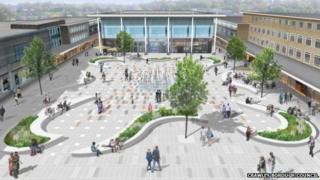 Work has begun on the redevelopment of Crawley town centre in an attempt to bring more visitors to the area.
Crawley Borough Council approved £3.2m plans for Queens Square in August 2015.
The design - based on curved landscaping and planters - was chosen by the public from a shortlist of three possible designs.
Peter Smith, from Crawley Borough Council, said: "We want to improve Crawley from the 1960s' new town it was designed as to a 21st century space."
He added: "We think it's critical for our town that we do this - there has been overwhelming support from the public."
A bandstand currently in the square will be refurbished and moved to the town's Memorial Gardens.