Terry Bridger charged after 40-hour Pagham police stand-off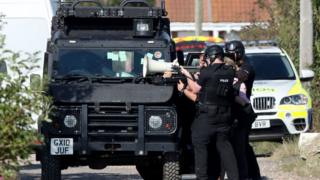 A 72-year-old man has been charged with a series of offences after a 40-hour stand-off with police in West Sussex.
Terry Bridger, 72, of Harbour Road, Pagham is charged with threatening to kill and possessing a gun with intent to cause fear of violence.
He is also charged with common assault and two counts of threatening to damage property.
Sussex Police spent two nights at a house in Harbour Road during the stand-off from Sunday to Tuesday.
Mr Bridger was remanded in custody by Crawley magistrates to appear at Portsmouth Crown Court on 30 September.