Sussex PCC Katy Bourne investigated over expenses post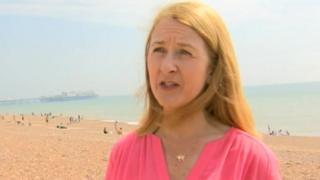 A complaint that the electorate was misled over the Sussex Police and Crime Commissioner's (PCC) expenses is being investigated by the police watchdog.
The Independent Police Complaints Commission (IPCC) said it was looking into a social media post by Katy Bourne during the 2016 PCC election period.
A member of the public complained she stated she had not claimed any expenses during her previous four-year PCC term.
The complaint alleged she had in fact filed expense claims of about £385.
The claims were filed between November 2012 and October 2013, it was alleged.
"As Mrs Bourne is a Police and Crime Commissioner, the IPCC will investigate whether she made a false statement during the 2016 election," said IPCC deputy chair Sarah Green.
"On completion of the investigation we will decide whether any matters should be referred to the Crown Prosecution Service for its consideration."
PCCs are referred to the IPCC only when there is an indication of a possible criminal offence.
The IPCC said it would investigate whether there was a criminal breach of s106 of the Representation of the Peoples Act 1983