Escaped dog in Bexhill which attacked police officer is found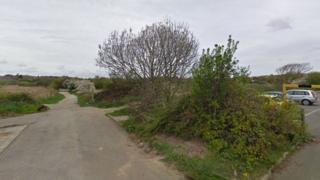 An abandoned dog which ran off after biting a policeman has been found.
It was one of two Staffordshire Bull Terrier cross-breeds found with four puppies in Bexhill-on-Sea, East Sussex.
An alert was issued after it "proved hard to catch" and "in its fearful state" wounded the officer before heading into fields on Tuesday evening.
It was located nearby the next day and handed over to the local dog warden. The injured officer is recovering from a deep bite wound to his wrist.
At the time, the pups were taken to a local veterinary clinic and the other dog was handed to a council warden.
Sussex Police said the dog, which had run off, had been reunited with its puppies and was being cared for in kennels.