Lodger Alan Knight held over Worthing doorway stab death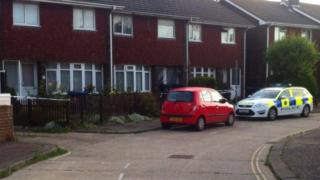 The lodger of a man who was found stabbed to death in the doorway of a house has been arrested by police.
The 50-year-old victim was found with stab wounds in Osmonde Close, Worthing, on Tuesday afternoon. A knife was found nearby.
Police said they arrested his lodger, Alan Knight, 51, in Lancashire overnight on suspicion of murder.
A police cordon in the Broadwater area is expected to remain until at least the weekend.
The dead man is still to be formally identified.