Sussex Police arrest 25 at Brighton Pride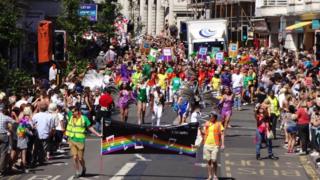 Twenty five arrests were made during Brighton Pride and a car park rave was closed down, Sussex Police have said.
The arrests were on suspicion of possession of drugs, assault, drunk and disorderly behaviour and public disorder.
Ch Supt Nev Kemp said officers stopped a rave at Black Rock car park where 30 people began playing loud music.
He said most people at Pride were "brilliant" but arrests were to be expected at such a large event.
Up to 300,000 people gathered in the city for this year's Pride, which took place amid tight security after terror attacks overseas.
This year's festival saw concrete barriers in place and armed officers at the event.
Ch Supt Kemp said Pride was one of the biggest policing operations the force managed.
He said: "I was delighted to be able to march in the Parade again this year, which has to be one of the most enjoyable opportunities I have each year as the city's policing commander."
Latest figures showed St John Ambulance treated about 130 people during Pride and about 78,000 travelled through Brighton railway station.
He urged people to take care of themselves and each other as the weekend continued and said a visible police presence would remain throughout the city.
The force has also revealed police carried out several drug warrants in the week leading up to Pride.
Officers carried out raids at several addresses, with heroin, cannabis, ecstasy and cocaine seized.
Ecstasy and cannabis being sent through the post was also intercepted by officers working with the National Crime Agency and Royal Mail.
Eight people were arrested and bailed.