Rye plane crash: No further searches for missing pilot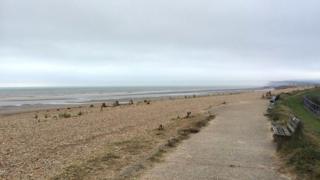 Searches for a pilot missing after a light aircraft crashed into the sea off the south coast will not resume, coastguards have said.
Simon Wells, 44, was the sole occupant of the Cherokee plane when it came down about half a mile off Winchelsea, East Sussex, on Saturday.
Police said the plane was from an aero club at Lydd Airport.
The Sussex force used a drone on Sunday to search for wreckage along the shoreline.
A spokesman for Solent coastguard said if wreckage was found, teams may go out to investigate, but added: "We achieved as much as we can achieve given the intelligence so far."
The Maritime and Coastguard Agency (MCA) said intensive searches were carried out on Saturday and a helicopter was at the scene very quickly.
A spokeswoman said: "If there had been anything on the surface, it would have been seen.
"The aircraft and pilot weren't above the water."
Sussex Police said the alert came from a member of the public who said a light aircraft had been seen to go into the sea.
But following searches, neither the aircraft nor the pilot were found.
Some wreckage thought to be from the aircraft was found on Winchelsea beach on Saturday.
The debris is due to be examined by the Air Accidents Investigation Branch (AAIB), which is now leading the investigation, police said.
The emergency response on Saturday saw coastguard helicopters from Lydd and Solent and lifeboats from Rye Harbour and Dungeness search the sea.
Rye Bay and Dungeness coastguards also searched the shore.
An RNLI spokesman said crews searched about three-quarters of a mile offshore between Winchelsea beach and Pett Level beach but lifeboats were stood down at dusk.
He said: "At the moment, lifeboats haven't been launched today. Our lifeboats are ready to launch and will do so if and when requested by the coastguard."